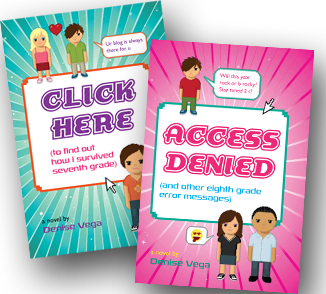 Click Here (to find out how I survived seventh grade)

Seventh-grader Erin Swift has a talent for computers, a love of Snickers, and big feet that are great for soccer and useless for dancing. She has a lot on her mind: a new school where she and her best friend Jilly are separated for the first time in school, a crush on the Cute Boy in her homeroom, and leading the school intranet project.
Ages 10 and up, Little, Brown Books for Young Readers
ISBN-13: 978-0316985604 (Hardcover), 978-0316985598 (Paperback)
Access Denied (and other eighth grade error messages)

Computer whiz Erin Swift is ready to start eighth grade. The Year of Humiliating Events is behind her and she's ready to rule the school. But eighth grade comes with its own set of problems, including her first boyfriend, her first break-up, and her mom treating her more like an eight year old than an eighth grader. But as Erin's school year once against hurdles toward disaster, a personal tragedy forces her to realize that things, and people, aren't always as bad as they seem.
Ages 10 and up, Little, Brown Books for Young Readers
ISBN-13: 978-0316034487 (Hardcover), 978-0316034500 (Paperback)
Let's have fun together! I love to visit with kids for school or library visits, family literacy nights, book fairs, and more.
Buy The Book!

Click Here is now only available as an eBook or Print on Demand (POD)
Buy the book online:
Indiebound      Amazon      Barnes & Noble
Want an Autographed Copy?
You may order one from me! Just Contact the Moderator.
Visit Erin's Website!

Check out Erin's Blog! Here you'll find excerpts from Erin's totally secret and private blog along with mugshots and other goodies. So, if you loved the book, you'll love visiting Erin's website.
Overall, this is a heartfelt book about a girl becoming her own person.
Like a Tootsie Pop, Vega's novel is sweet and gives readers plenty to chew on. Readers who have just entered their teen years will likely also enjoy the novel's bittersweet sequel, Access Denied (and other eighth grade error messages)…
…Erin's solution to her dilemma is clever in this engaging first novel.
Click Here is one of the funniest, most entertaining novels I have read in a long time…This novel will keep all readers laughing and begging for more!
Kudos and Awards
Winner, Colorado Book Award for Young Adult Literature
New York Public Library Books for the Teen Age
VOYA Top Shelf Fiction for Middle School Readers
Scholastic Book Fair/Clubs Bestselling Title
Finalist, Louisiana Young Readers Award
Girl's Life magazine selected Click Here as one of their "Top Ten" among books, TV, movies, and more.
Enhance the Experience with Classroom Activities!
Click Here and/or Access Denied are wonderful books to use for discussion about specific issues. Explore the educational activities on the Educators page.
Fun and Educational Resources
Want to use this book in your classroom,? Check out the downloadable resources!
FAQs About CLICK HERE and ACCESS DENIED
Where did you get the idea for CLICK HERE?
It actually started because I was talking to a friend. She told me her daughter's best friend was going to a new school and the girls were totally bummed about it. When I first started it, my book was called My Own Two Feet and Jilly had moved to another state. But that wasn't working so then I had her at the same school, just on a different track.
How long did take you to write the books?
For Click Here, almost two years, which is actually pretty quick for me! I started in the summer of 2001 and finished in spring of 2003. Then it took two years for it to be published as a book. Lots of revision. For Access Denied, it was about the same time, maybe a little less time because I had a pretty good sense of the story.
Did anything in the books happen to you in 7th or 8th grade?
Thankfully, no! But the feelings of insecurity, of wanting to fit in, wanting to be treated like I could handle things, do things my friends got to do, have a boyfriend – all of that is from my middle school and high school years. I think most people feel that way.
Is there going to be a movie based on Click Here? If so, how can I get an audition?
Thank you for thinking that the book would make a good movie! Even though it seems like a lot of books get made into movies, it is actually very rare. And even if the planets aligned for a Click Here movie, I wouldn't be involved in casting I'm sorry to say. But if you are interested in acting, I hope you are auditioning for plays at your school or in your hometown and working on those skills.
Are any of the characters based on people you know?
Not really, though Serena is actually based on two or three boys who were mean to me in 5th-8th grade. They did get a little nicer as we got older. And I used names of people I know for some of the characters.
*SPOILER* about Erin and Mark's relationship
Why didn't Erin end up with Mark at the end of the book? A lot of readers were disappointed that Erin didn't end up with Mark as her boyfriend at the end of the book. But that felt too predictable to me. And also, having her without a boy and not even a crush really, strengthened the theme of the book, of her being able to stand on her own. I wanted her to have only herself to rely on in the end. And I also believe that only when we are fully secure in ourselves can we really have a meaningful relationship with someone else. Erin wasn't ready, but she will be.
Are the shoes on the original hardcover of CLICK HERE your shoes?
No, but they could have been! My black Chuck's have red thread. The fab cover designer, Alison Impey, at Little, Brown (my publisher) found that picture some where and used it. And it was absolutely perfect.
On the original hardcover for CLICK HERE, there's a girl with braces. Which character in the book has braces?
None of them! Or at least, I didn't make a point to say that some did. But I love that photo and wish I'd thought to have one of the characters have braces since that's the age to have them. In ACCESS DENIED, one of the characters has braces.
Is the sequel, ACCESS DENIED, about Erin in 8th grade or later?
The sequel is about Erin's 8th grade year at Molly Brown Middle School. I won't say anymore so you can enjoy reading it!
Will you write about Erin in high school – have a sequel to ACCESS DENIED?
At this time, I don't have any plans to take Erin and her friends beyond 8th grade, but you never know! I hope you enjoy reading my other books with high school characters.
What other books have you written?
Click Here was the SIXTH novel I'd written for young people, the FIRST to be accepted for publication. Check out other book pages on my site to see what other books are published or coming out!
How can I have my own website or blog like Erin Swift in the books?
There are several places you can do this but I recommend talking to your parents first because its really important to BE SAFE. Never put in any personal information (full name, address, phone, school name, team name, stuff like that) so you are always safe online. Once you talk to them, have them search with you online for different places where you can keep a blog or have a website and make sure you always follow good Internet safety.
The other option is just to keep a private journal on your computer. You can even do it in Microsoft Word and give the document a password so no one can read it but you. Check Word's online Help for instructions on how to do this.
CLICK HERE and ACCESS DENIED in the Media