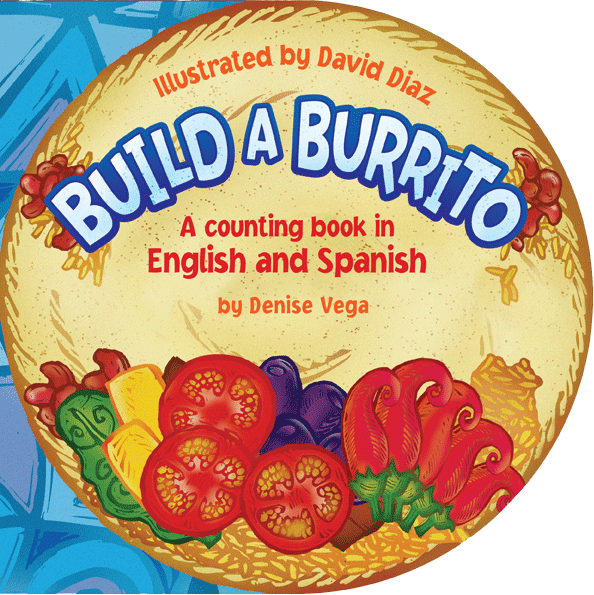 Bold graphic numerals and shaped pages to count in English and Spanish make this book a great way to reinforce multiple basic concepts. Signature art by Caldecott Medalist David Diaz is an indispensable ingredient, adding flavor to a burrito bursting with fun.

Ages 3-7, Scholastic
ISBN-13: 978-0553496550 (Hardcover)
Let's have fun together! I love to visit with kids for school or library visits, family literacy nights, book fairs, and more.
Buy the Book!
This book is out of print, but I have 5 brand new copies for sale through my online store. Just click the Shop button to head over and make a purchase!
Want an Autographed Copy?
If you already own the book, contact the moderator to receive an autographed bookplate or arrange to have me autograph it via mail.
Shop
Meet Illustrator David Diaz
Learn to count from one (uno) to ten (diez) — while building a burrito! Bright colors and bold patterns make this book a fun way to learn how to count in two (dos) languages. The layered pages have cut-out illustrations of the burrito's ingredients, an attractive feature for little hands.
- Winston -Salem Journal
This round book book leads kids ages 3-5 through the steps to assemble a burrito using numbered ingredients…WIth colorful illustrations by Caldecott Award winner and Carlsbad artist David Diaz, this book is sure to delight readers and stimulate an appetite for learning Spanish.
- San Diego Family Magazine
Enhance the Experience with Classroom, Story Time
and Home Activities!
Build a Burrito  is a wonderful book to share with your class, for story time at your library, or at home. Explore the educational and fun activities I offer.
Fun and Educational Resources
Want to use this book in your classroom, story time or at home? Check out our downloadable resources!
Go to Resources
FAQs About IF YOUR MONSTER WON'T GO TO BED
How long did it take you to write Build a Burrito?
It's hard to remember because I wrote the book so long ago (back in 2000). I know I went through a few versions before getting to the one I liked and felt worked. It probably took me a month or two to get to that point.
Where did you get the idea to write the book?
Back then there were publishers looking for multicultural books and I had been getting more and more interested in the Mexican side of my heritage. I wanted to do something that would help me dive into that. I think I was looking at different concept books and wondered how I could combine looking at my heritage with a counting book. And of course, I love burritos (even though I hate cheese!) and they can have lots of ingredients so it seemed like a good fit.
It's such a short book. Did it get published really fast?
No! The book was accepted by the publisher in December 2001, but didn't come out until October 2008. Seven years later! I think it was a combination of waiting for the fabulous illustrator, David Diaz, because he was so busy, and also the publisher trying to decide on a format that would work best for the book.
Are you fluent in Spanish?
No, but I sure wish I was! I originally submitted the manuscript for Build a Burrito in English-only as I am not bilingual. Once they accepted it, they contacted me to see how I would feel about doing it bilingual. I told them I wasn't and worked with some bilingual friends for some of the words and the publishers Spanish editor also helped with the Spanish in the book.
Why is there cheese on the burrito if you don't like cheese?
Well, most burritos have cheese so I thought I'd better include it. But notice it's the very last (and smallest!) ingredient in the book!