Writers Resources
Links and resources to improve your craft and share your work
Resources for All Writers
Books & Market Guides
Wild Ink: How to Write Fiction for Young Adults by Victoria Hanley, Cottonwood Press
Writer's Digest Books
Children's Writers and Illustrators Market (current year)
Institute for Children's Literature
Book Markets for Children's Writers (current year) and Magazine Markets for Children's Writers (current year)
Online Resources
There are hundreds of resources for writers on the Internet–this is only a small sampling!
Resources for Young Writers
Books
These books are a great place to get acquainted with the world of writing and publishing. Be careful of using a market guide that is more than a year old–the people and contact information may have changed or the magazine or publisher may be out of business. If you do use an older edition, make sure you call or write first to check the status of the publisher or magazine and whether they are still accepting submissions.
Seize the Story: A Handbook for Teens Who Like to Write by Victoria Hanley (Cottonwood Press, 2008)
The Young Writer's Guide to Getting Published by Kathy Henderson Writer's Digest Books; 6th edition (May 1, 2001)
Children's Writers and Illustrators Market (current year) (Writer's Digest Books) You'll need an adult to assist if you are under 18.
Online/Print Publications
Zuzu
Showcases work previously published along with inviting new young people to contribute both stories and art.
Stone Soup
Unique among children's magazines — it's the only magazine made up entirely of the creative work of children, ages 8 to 13.
Young Authors Guide
List of publications for young authors
Contests
Many schools, cities and states have contests for students. Check out contests in your local area!
5 Tips for a Good Conference Experience
Attending a writing conference? Check out my tips for making it a good one!
Resources for Picture Book Writers
Picture Book Proclamation
Writing pictrue books is a fun and sacred duty. Check out author Mac Barnett's inspiring proclamation.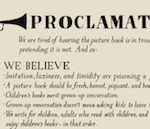 Picture Books Tips on YouTube
Subscribe to my Picture Book YouTube channel to get notifications of new videos. My goal is bi-weekly, answering frequently and not-so-frequently-asked questions. Feel free to ask a question in the comments for me to answer in a future video!
Below are writers and sites that have awesome info and inspiration that I follow or visit regularly.
READING FOR RESEARCH
Fantastic site for learning how writers use picture books to inform their own work. Check out their Month Challenge held annually in March!
12 x 12 Challenge
This program challenges you to write 12 picture books in 12 months. Different paid levels give you access to different features and goodies.
Picture Book Builders Blog
Wonderful group of picture book authors who blog about topics and books–with giveaways!
"Tools and tips for writing, publishing and selling your manuscript."
eBook by author, Linda Ashman.
Storystorm
Formerly Picture Book Idea Month (PiBoIdMo), this is a wonderful way to challenge yourself to "create 30 story concepts in 30 days."
Picture Book Writing Week
Created and hosted by author Paula Yoo, challenge yourself even more with 7 picture books in 7 days!
Rhyme Revolution
Author Angie Karcher hosts this site with great information and rhyming challenges.
Rhyme Weaver
Rhyme Weaver: For Writing Better Rhyme and Meter.  Wonderful resource for rhymers!
Making Picture Book Magic
Making Picture Book Magic is a 4 week course that will teach you how to write a picture book.
Push Yourself a Mile High
I am honored and privileged to be a Young Adult Fiction faculty mentor for the Regis University Mile High MFA in Creative Writing. This video gives you a wonderful taste of what the program is like. One of my favorite aspects of the program is one that I believe is unique to this particular program–Writing in the World—What will you give through your writing and as a writer and human moving through the world? If you are interested in the program, feel free to contact me with any questions you may have!
NEW! You can now take a Writing Picture Books semester with me. I'm so excited!
Below are writers and sites that have awesome info and inspiration that I follow or visit regularly.
plot doctors
Authors Hilari Bell and Anna-Maria Crum are master plotters and can review your synopsis and help you shape your novel.
Wild ink Book
Wild Ink: Success Secrets to Writing and Publishing in the Young Adult Market by Victoria Hanley.
Middle Grade Authors
"[A] magical place for all things middle-grade." A group blog of middle-grade authors celebrating books for middle-grade readers.
Kid Lit
Kidlit.com is an ongoing project for the passionate community of people who read and write children's literature.
Rookie Magazine
Get to know your audience. An independent online magazine that publishes writing, photography, and other forms of artwork by and for teenagers