Free Downloadable Tools
Tools to make your process a wee bit easier
Use the tools below to help you with your story planning and also, when you are ready to submit, with formatting your manuscript properly. I'll be adding more tools as I come up with them so check back!
Narrative Picture Book (plotting chart)
A narrative story is a traditional story with one or more characters who have a problem to solve or goal to achieve. This chart gives you a "map" for identifying the key points in your story.
Non-Narrative Picture Book (planning chart)
A non-narrative (my term–sometimes called a "concept" book) is any story that doesn't have a character with a problem to solve–it's more experiential. This chart gives you a "map" for identifying the key points in a more experiential story.
Storyboard Layout Example
This is an example of a typical 32-page picture book layout in spreads. Note that every publisher is different and that some may use more pages for the story, some less.
Storyboard Fill-In Spreads
Use this sheet in conjunction with the storyboard example to see how your story flows. (1) Literally cut up your text and paste it in the boxes, (2) Jot down keywords or phrases for each scene (in pencil!), (3) use sticky notes so you can easily move them around or…your own option!
Character Development Chart
Big thanks to author Eleanor Brown for identifying many of these in her classes. Use the chart to identify traits about your character that will help shape the plot.
Character Development Questions
Use these questions to explore your character in conjunction with the character chart.
Novels 4-Point Plot Chart
Identify these milestone points in your novel and you'll be writing in no time! The 4-point plot tool is similar to the Planning Your Story tool for narrative picture book writers. It's a great tool for me when I'm first starting out because it gives me a bit of a road map without feeling too confining. I was never a big plotter, but have found that a little bit of planning goes a long way and doesn't cramp my style–surprises still emerge during the writing!
I have a longer, more detailed outline that I used for my latest novel and am currently developing it into a course—stay tuned for that!
Manuscript Formatting
A snapshot of how your manuscript should look for submitting to agents and editors, with notes on spacing, fonts, margins, etc. I would encourage you to really hone your craft before embarking on the submission part of your adventure! Check out my free video series below to see if you're ready to submit.
Are You a Plotter?
I used to believe planning out my novel would stifle my creativity so I never did it. And it takes me years to complete a book. That's not the case for other writers. Some of them write and revise as they go and the end result is just what they want. I discover too much along the way and find any revision I did early on is often wasted.
So…now I am in love with planning ahead and plotting. Some of you may know I'm a huge fan of Michael Hauge's 6-point structure. Along with other resources, his structure helped me tremendously. If you want a wonderful overview, check out the video to the right!
Receive Writing and Submitting Tips!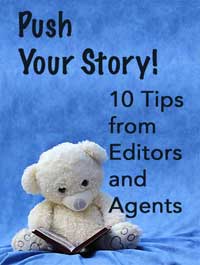 For picture book writers and MG/YA fiction writers. We focus mostly on craft, which keeps me learning too. (monthly, mid-month) You also receive Marketing News You Can Use with contests, agent and publisher information and more! (1st Thursday of every month) Free gift with your subscription: Push Your Story! 10 Tips from Editors and Agents.