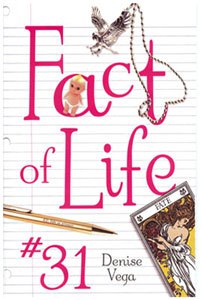 Fact of Life #129: Some people put you where they want you to be, not where you actually are.16-year-old Kat Flynn believes in going with the flow. She practices yoga, works with her mom at Abra's Midwifery, and watches the Perfect Couple in the hall at school. But when she finds herself in the middle of the Perfect Couple's drama and some drama of her own (including an unexpected romance), Kat has to decide whether going with the flow is really the best way to come back to herself.
Ages 12 and up, Knopf Books for Young Readers
ISBN-13: 978-0375848193 (Hardcover), 978-0375843099 (Paperback)
Let's have fun together! I love to visit with kids for school or library visits, family literacy nights, book fairs, and more.
Buy The Book!

Alas, this book is out of print, but you can buy an e-book from your favorite e-book seller:
Amazon         Barnes & Noble        Tattered Cover     iBooks
Want an Autographed Copy?
I have a number of brand new copies (hardcover and paperback) for sale. Just Contact the Moderator.
Vega is a master at putting her characters in difficult situations and allowing them to grow and work through things, and this book is no exception…A beautiful exploration of life, love, and family; definitely a must-read!
…athletic, artsy, oddball Kat is an unusual protagonist who doesn't easily fit into type, and many readers will welcome her strong individuality and believable growth.
I LOVE your new book!!! It's a touching, funny story [with] wonderful, tender characters… a really unique and fascinating premise…a beautiful book!
"I just want to say i really LOVE  your book. ♥♥♥♥♥ I have read this book like three times…"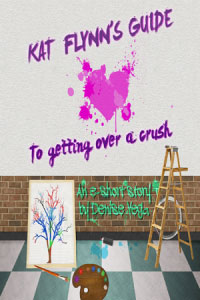 I wrote and published "Kat Flynn's Guide to Getting Over a Crush" in 2013 to commemorate the 5th anniversary of Fact of Life #31. It works a little bit like a prequel to the novel, though not precisely (if I'd known I was going to write this story when I wrote the novel years ago, I would have written the novel a little differently…ah well). For example, there are two characters in "Kat Flynn's Guide"–Mira and JT–who are not in the book, but I wish they were!
In this story, we get a more in-depth look at her crush on Manny Cruz and her attempts to deal with it. Download the format that works for you and enjoy!
Enhance the Experience with Classroom Activities!
Fact of Life #31 is a wonderful book to share with your class.
Explore the educational activities.
Educational Resources
Want to use this book in your classroom? Check out the downloadable resources!
FAQs About FACT OF LIFE #31
Is Kat like you at all?
The only thing that is similar about Kat and me is that we both had to learn how to speak our minds to adults in a firm and respectful way. We both do yoga and I did train and compete in the Danksin mini-tri here in Denver around 2003 or so, but other than that, she's a lot more talented than me and handled herself better than I would at that age if I had been in her situations.
How long did it take you to write Fact of Life #31?
About two years! This seems to be my timing, though my next book is going faster. It took about 18 months to be published and we had lots and lots of revisions, even up to the last minute!
Where did you get the idea for the story?
I had hoped to have my children born at home with a home birth midwife but the idea kind of freaked out my husband so we compromised–I used nurse midwives and gave birth in the hospital. I loved the process and the approach that midwives have to childbirth–that it's natural and not a medical condition, which is how a lot of people see it.
I wanted to write about it but wanted to write it for teens. That's when I came up with Kat, a smart, caring girl who works at her mother's midwifery (pronounced with a short "i" as in "whiffle"). But as I wrote, the midwifery part became the backdrop to the story, and the real story emerged, which is how Kat comes to realize her strengths and figures out how she can be her own person with a "practically perfect" mother. And of course I have to thrown in some romance!
FACT OF LIFE #31 In the Media