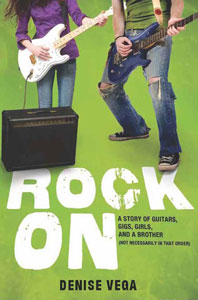 Shy but talented Orion Taylor dreams of rock glory so when his Yet-To-Be-Named garage band has a chance to compete in the high school Battle of the Bands, he throws himself into his music. Just as he's beginning to find his voice and confidence, his disillusioned older brother, Del, returns home and seems determined to sabotage his life and dreams. Can Ori learn to believe in himself enough to fight for his music, the girl he loves (and come up with a band name) before it's too late?
Ages 12 and up, Little, Brown Books for Young Readers
ISBN-13: 978-0316133104 (Hardcover), 978-0316133098 (Paperback)
Let's have fun together! I love to visit with kids for school or library visits, family literacy nights, book fairs, and more.
Buy The Book!

Buy the paperback from your favorite bookstore or buy online:
Indiebound     Amazon     Barnes & Noble
Want an Autographed Copy?
Denver area stores may have an autographed copy on their shelves. Just ask! You may also request a hardcover one from me! Just Contact the Moderator.
Visit Ori's Site!

Check out the band site, Colorado Rocks! Here you'll find excerpts from the band's blog in the book along with cool videos and downloads. So, if you loved the book, you'll love getting to know Ori and the band on Colorado Rocks.
Vega has imbued her tale with well-developed characters…readers will appreciate Ori's gently self-deprecating humor and the lively Web postings and texts woven throughout that help tell the story.
Ori's honest voice will have readers caring about the outcome…Blog entries from the band's Web site are interspersed, giving an amusing glimpse of the drama among the band's budding groupies, while third-person flashbacks to Ori's younger days take readers behind the music—and behind Ori and Del's strained relationship.
In this thoughtful tale, sibling rivalry is taken to the next level. Both Ori and Del prove to be likable characters in their own respective ways… A true strength of this title proves to be supporting character Gwyn, who is seamlessly integrated into the story without making her deafness debilitating.
Kudos and Awards
Finalist, Colorado Book Award for Young Adult Literature
Enhance the Experience with Classroom Activities!
Rock On is a wonderful book to share with your class, for story time at your library, or at home. Explore the educational and fun activities I offer.
Fun and Educational Resources
Want to use this book in your classroom? Check out the downloadable resources!
It's clear you love music. Do you play any instruments or write music?
Neither. I did pick up the flute for about two weeks in fifth or sixth grade because my friend played one. My parents were nice enough to buy me a second-hand one, but it didn't last. Unlike Orion, I was lazy about practicing. I don't write music, but I've always written poetry so thought writing lyrics would be easy. But it's actually a different process in many ways. You have to remember that there will be a singer/musician involved who can stretch or shrink a word or phrase to make it cover several beats of music or very few. When I first wrote the lyrics for "Waiting for You," I worked really hard to get the rhyme and meter just right. But then I read two books on lyric writing and started over completely with the song! Not only did I leave room for the music, but I was lucky enough to have very talented singer-songwriters who brought a vision to the song that I didn't have. It was wonderful!
Is there a song or band that inspired the idea for this book?
It was actually two things – my overall love for music and my fascination with the relationships of brothers I saw around me. My husband grew up with two brothers and told me lots of stories about what they did to him (they were both older) and also how they were there for him. And I've been watching brothers interact all around me through friends and family. Their relationships are very different from sisters (I have three), often with a fierce loyalty unmatched in other relationships.
This is the first time you've written a book with a male as the main character. Was it harder to write from the male perspective?
Even though I've been around guys all my life and often preferred their company to that of girls, I was still nervous about writing from a guy's point of view. The whole time I was working on the book I only read young adult novels by men with a male protagonist to help keep me in the groove. I also got advice from my son and got to the point where I could hear his voice saying "A guy wouldn't say that" during my writing. I'm sure I slipped a few times, but hopefully I did Orion justice. He became very real to me – a mix of teen boys I know with a little bit of my own rock and roll fantasies thrown in there.
Is Orion like you at all?
Orion and I share the same passion for our art. For him it's music, for me it's writing. We both can go into the "zone," getting lost in our music or words in such a way that the outside world disappears. It was easy for me to write those scenes when he gets lost in his music because I knew what it felt like to get lost in my stories. I also love to listen to music and it can transport me as well so I used those experiences to write his. I was also a little tongue-tied around guys I liked, just like Ori has a hard time talking to girls. On the other hand, I was never shy about getting up in front of people to read from my books or speak, whereas Ori has trouble with that.
How long did it take you to write Rock On?
That's a good question. It actually started out as a different book, less about Orion and his brothers and more about his obsession with a girl, with a bit of music thrown in. After my critique group gave me feedback, I went back through it and realized I had two novels in one book. Crazy, but true. I was trying to tell two different stories and I needed to pick one. I came across a slip of paper where I'd written something about the brothers and decided that's what I wanted to focus on besides the music. So, in January 2010 I started the novel completely over and finished a decent draft about 10-11 months later – the fastest I've ever written a novel. But it took about eighteen months to get to that place so overall it was over two years. Yikes!
Did anything in this book happen to you?
Except for occasionally fantasizing about being on stage at Red Rocks (which I have been, just not when there's been an audience – anyone can go there on off days), Orion's life is pretty far removed from mine. But the love of music, listening to it, letting it take you places – that's definitely a part of my life even today. Music is on A LOT in our house.
Are any of the characters based on people you know?
The main characters all have elements of me and teens I know, but I don't want to be specific so I can protect the guilty! Gwyn came to me after I read about Evelyn Glennie, a deaf percussionist from Scotland. I did a little research and there are a few deaf bass players out there so Gwyn was born. But it was important to me that her deafness not be the only thing that defined her—it's just one aspect of who she is. Orion's talent is based on my brother, John, who had a few guitar lessons but has basically always played by ear. John wrote his own songs, wrote and starred in a musical when he was in high school, and later was in a band when he lived in San Diego. Unlike Orion, though, my brother has no problem performing in public!