With most of my novels, I call it revising, but it's really rewriting. Revision vs. Rewrite. What's the difference and why do I care?
Revision
For me, revising is when I'm reworking scenes and maybe even adding and deleting some scenes, but the general storyline remains basically unchanged. I may add a little more emotional heft to a scene or rework for more tension, but the basic underlying structure of the scene and story as a whole are intact.
Rewriting
When I'm rewriting, big plot elements have changed so I may delete entire scenes and characters. I may move scenes and completely rework them. And I'm writing a lot of brand new scenes and chapters because the theme and storyline have change significantly or completely.
The journey of Fade Away to its current form was a series of both, though mostly rewriting. It took awhile for the story to find me. Or for me to be ready to tell it. I'm not sure which. I just know that each time I did a "major revision," I was actually rewriting extensively, creating a new storyline, a new theme, and juggling characters.
Ghost element? Gone
Ex-best friend's older brother? Bye-bye
New guy? Character bolstered significantly, requiring brand new scenes and his own story arc
Theme? Changed, necessitating the change in focus of many, many scenes as well as deleting scenes completely and adding new ones
And more…
The image below shows a snapshot of some of my pages after a "rewrite overhaul." I'm still trying to come up with a more elegant name for this part of my process so if you have ideas once you hear what it is, please post them below!
So here's what I do once I have the new vision,: I go through the story page by page doing one of three things:
Deleting scenes/chapters
Highlighting scenes for possible deletion in yellow/in green for things that may work elsewhere
Writing notes for changes to a particular scene, then highlighting the notes so I can see them easily when I go back through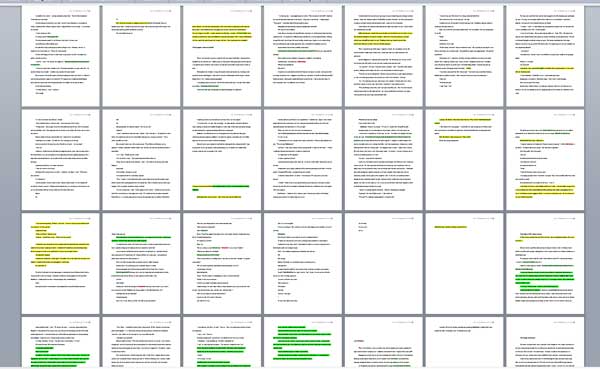 You're seeing 28 pages of 320+ pages. Very few pages do not have some kind of highlighting and/or notes on them  🙂 .
My next round is setting aside a large chunk of time (6+ hours if possible) to go through it from the beginning to the end, implementing the noted changes without worrying about style (this is tough for perfectionist writer me). I like to go through it in one sitting to ensure things are happening in the order that they are supposed to. If I can't, I make notes to myself about what's happened up to the point where I need to stop.
Next, I begin to write and revise, meaning I'm focused on how I'm saying things, how much I'm saying, and the overall purpose of a scene. Then I continue with my usual revision process—continuing to hone the purpose of each scene, adding tension, making sure I didn't leave a plot thread dangling somewhere and so on.
Why Differentiate?
Some people probably don't care what they call this part of their process; they just do it. Or maybe they never do rewrites so this is irrelevant for them. I say, kudos!
But for me, what I call a thing matters. If I say I'm doing "revisions"—to myself or anyone else—and I'm really doing rewrites, I'm not really owning the full experience and I want to own it.
Do you differentiate between two? Does anyone care besides me? I don't mind being the only crazy semantic girl around…I'm just curious.
P.S. The manuscript is now with my group. It's a little rougher in spots than I'd hoped, but I'm looking forward to getting some guidance from the Collective Genius that is the Wild Writers.