Free E-story!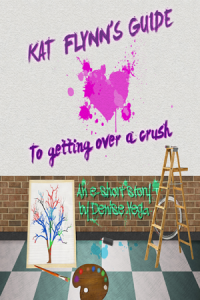 So psyched to share a free download of my brand new e-short story, Kat Flynn's Guide to Getting Over a Crush.

Click here for more information and to get the download links.
For the second half of May, we'll be celebrating the fact that my young adult novel, Fact of Life #31, was published five years ago this month.
"…athletic, artsy, oddball Kat is an unusual protagonist who doesn't easily fit into type, and many readers will welcome her strong individuality and believable growth." –Booklist
"…Told in Kat's passionate voice, this coming-of-age novel, with its romantic subplot, snappy dialogue and strong secondary characters, will appeal to fans of Sarah Dessen." –Kirkus Reviews
I remember going over scenes in my mind while I was swimming laps, training for a mini-triathlon (which Kat does in the book). I remember tapping away at my keyboard while constructor workers hammered and sawed during our renovation. Lots of memories, lots of hard work.
Like most of my books, Fact of Life #31 came in fits and starts and I hit a few obstacles along the way (and it took way too long…argh). But I was determined to bring out Kat's story and the exploration of how someone can recognize her gifts and talents, believe in herself, and know she makes a difference.
Every few days over the next two weeks on my Blab-o-Denise blog, I'll post something new–a video, a contest announcement, a free e-story and more. I encourage you to subscribe to my blog (top of the right sidebar) so you don't miss out (and also to get writing tips and such when the celebration is over!)