A few weeks ago I started yet another round of cleaning out my writing space–going through files, recycling paper, sorting supplies, and giving away or tossing what I no longer needed. Shortly after I began, I spoke to my dear friend (see photo at left), Ann Martin of Mile High Healing Vibe, whose beautiful Tibetan singing bowl meditations and concerts have inspired me (she also gave me my own bowl as a thank you for being part of creating her CD–you can see it on the FAQ: Denise page). She mentioned a process she does called "space clearing," where she comes in and does a series of rituals with people to remove any unwanted emotions or energy to make room for positive energy.
"That's exactly what I need!" I told her. So she came today, which is why my post is delayed. I wanted to share the experience here.
I love ritual and have always incorporated it into my life, including my creative life. I need something to help me transition from "real" life to the world of my stories and have used candles, meditation, and music to make that happen.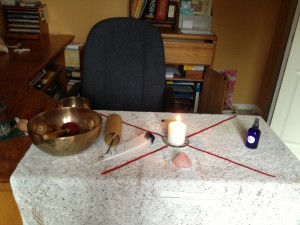 With a fabulously clean and organized space, having Ann perform a space clearing was perfect. First we started with a mediation to clear MY space–help me get free of my own internal clutter. Then we went into my studio and she engaged air, fire, water, and earth and spoke lovely, inspirational words as I moved around my room with different objects representing these elements. Doubts, fears, and writer's block, begone!
I loved the process and the space has a new, energetic feel. I jumped right into writing this post and am then going to continue reading through my novel here. It feels brand new.
P.S. Ann does private sessions and lots of cool events. I'll be at a few of them, including a gong immersion on September 30. If you are in the Denver area, I'd encourage you to go! (See her Events for more info).