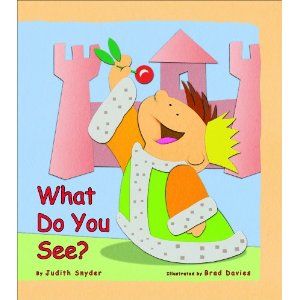 Today is Picture Book Wednesday and we'll look at a book that is designed to be interactive, to spark a child's imagination: What Do You See? by Judith Snyder, illustrated by Brad Davies.
In the classes I teach on writing picture books, we talk a lot about not making a book overtly didactic. If there is a message or lesson you want to share, see if you can make it organic to the story, unless that is the sole purpose of the story. If that's the sole purpose, then you you are shifting to a different market and will be looking at different publishers for publication.
That said, Judith has done something very different with What Do You See? This book encourages creativity, with guidance from an adult, and could easily be used in a home or school setting. The book presents several different shapes and shape combinations and then asks the title question: What do you see? The book encourages readers to use the shape to create something themselves before turning the page to see what the author and illustrator "saw."
It's great fun and the cut-paper illustrations lend themselves perfectly to kids doing the same thing. Do you have an idea for a book that fosters creativity or encourages interaction?