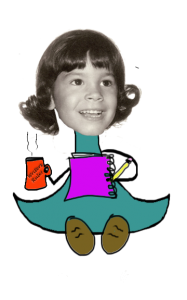 I completely forgot to do my Writer's Studio for July, so I wanted to make sure we had one for August!
One of the most frequent comments writers see when an editor takes a pass on a picture book manuscript is something along the lines of "It's not distinct/unique/different enough to stand out in a crowded market."
I, myself, have had this comment, even after editors have loved the writing and really liked the manuscript. It can be maddening to feel you've got a wonderful manuscript, but it's not quite there.
Recently I was discussing one such manuscript with my agent. We both loved it and felt that, though it was a little similar to other books out there, it had enough bounce and charm to carry it through. But something niggled at me. I wasn't so sure. The market is crowded, and so are the In Boxes (both real and virtual) of the editors and publishers. I want to make sure I'm doing everything possible to ensure my manuscript is as unique as it can be.
So I read it again. And again. I tweaked it based on my agent's comments. Then I asked myself: What can I do to make this more unique?
Asking Questions
In my July 19 Friday Focus, I used some questions from Donald Maass's Writing the 21st Century Novel. I grabbed a few of those off the top of my head, modifying them for my picture book manuscript. It's a short rhyming story for the very young.
Here are the questions I asked:
What would you not expect character/element, place to do/be?
What are words you typically would not use to describe the character/element/place, etc?
After I had a start on the above three questions, I asked myself this:
What would kids find humorous about this situation?
Coming Up with Answers
Then beneath each of the above questions, I wrote down everything that came to me, trying not to censor myself, but writing everything, no matter how crazy or unrelated it sounded. I was amazed at what the lists triggered. I revised a few stanzas, and then wham! A theme struck. So I revised some more, removing a stanza and adding two new ones. Changing a few words to match the theme.
I was so excited about the result I could hardly contain myself. No matter what happens with the manuscript, I loved every minute of going in a completely different direction, of feeling my creative pistons firing synchronistically.
Asking questions about a manuscript can really help spur you on so I encourage you to use some of these questions or come up with some of your own.