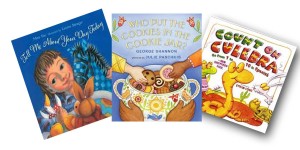 Obviously, I could list a zillion websites, books, articles, etc that are excellent resources for writing picture books. But I'm going to focus on the ones I've found the most helpful. If you have others to share, please do so!
Books
Writing Picture Books by Ann Whitford Paul
Covers creating memorable characters, devising your plot, writing in rhyme, and more. By a prolific and popular picture book author.
How to Write a Children's Picture Book, Vols, I, II, III by Eve Heidi Bine-Stock.
These books are older and use more classic examples, but Volume I, especially, provides excellent tools for developing the plot of a traditional narrative picture book.
Websites
Truly an immersion in the craft of picture book writing. Thanks, Julie Hedlund! As Julie says, "…reading his blog is like taking an MFA in picture book writing." Exactly.
So You Want to Write a Picture Book – Mem Fox
and
20 Do's and 20 Don'ts – Mem Fox
How to Write a Picture Book – Sue Bradford Edwards
Explore these sites, but make sure it doesn't take you away from your writing!