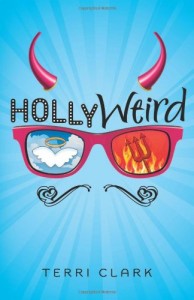 Today we'll be looking at Hollyweird by my dear friend and author Terri Clark.
Let's look at what Terri does to hook us on the first page of this novel.
The Page
It's not every day you get a chance to meet the celebrity whose pics plaster your locker and Facebook page.  But a phone call from EnterTEENment Magazine had me poised to do just that.  I, Aly King, was about to meet the Dakota Danvers. Never heard of him? What planet are you on?  Think Jared Padalecki or Penn Badgley and you get the idea. Hot TV hunk, huge teen following.  Dakota's mega-popular CW show is called Paranormal PI.  The title's pretty self-explanatory, but basically he's this brooding, kick-butt, supernatural sleuth who rids the world of evil and fights to avenge his loved ones.
Swoon. Thunk.
Now I'd be meeting him. For real. And my life would never again be the same. I just knew it.
Why It Works
I love the opening of this book because we know Aly King right away. Heck, I've been her, obsessed over some hunky celebrity (where to begin? Perhaps with the life-sized cut out of Orlando Bloom as Will Turner that a friend gave me because she knew. But I'm still waiting for Captain Jack Sparrow…). Aly is fun, funny, and clearly knows the object of her lust, Dakota Danvers–all relatable traits. Terri has nailed the teen voice with the pace (short sentences move us along), word choices (pic, hunk, kick-butt, swoon, thunk) and with that final little foreshadow–"And my life would never be the same. I just knew it."–who could resist turning to page to find out just how much her life will change? Not me, baby. Oh, yeah.