Courses in Your PJs
Learn at your own pace in your own time.
Enroll in an online course so you can learn at your own pace. Right now I am focused on picture book classes, but plan to add some middle grade/young adult courses as well. Enroll in the Write-o-Rama School and receive "7 Strategies for Creating Your Writing Life." (No purchase necessary)

Available Picture Book Online Classes
I'm so excited about these classes and looking forward to adding more! For more information about what I'm offering and to sign up to hear about launches, discounts and giveaways, subscribe down below. You'll also receive a special download: Is Your Story Ready for Prime Time? A 10-Point Picture Book Checklist.
Children's Picture Book 101: What to Know Before You Write
Available now!
If you are new to the fab world of children's picture books, this is the perfect introduction and will give you an excellent overview of the unique aspects of the picture book so you'll have the confidence to begin writing your own. For more information or to enroll in the course, click here.
Writing Children's Picture Books: From Idea to Finished Story
Available now!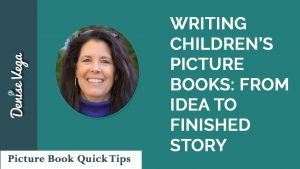 Take action on your dream of writing children's picture books, creating a story that will make a child laugh, learn, or grow in some way. By the end of the course, you will have completed at least one picture book story.  For more information or to enroll in this course, click here.
Ready to Submit?
Find Out in This Free 3-Part Video Series
This free video series can help you determine if you're at the right place in your career to take the important (and often scary) step of submitting your manuscript to agents or editors.
Find a Publisher for Your Children's Book
Now Available!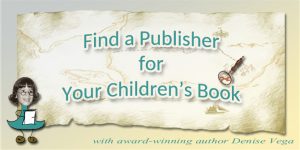 My online course for learning everything from publisher terms to formatting your manuscript to locating publishers and agents and submitting to them! For more information or to enroll in the course,
click here
.
Children's Picture Book Mastery Series
Geared for the more experienced picture book writer, these will be shorter, intensive online courses focusing on a single craft topic. I will be launching these as soon as they are ready, shooting for late spring/summer 2018 to begin rolling them out.
Story Structure: Develop a structure that keeps your story flowing and readers engaged!
Illustration Insider: Find the balance between your words and the illustrations by learning what to leave in and out.
Make Every Word Count: Learn techniques to tighten your writing, choose the best words, and get rid of words you don't need.
Writing in Rhyme: Learn how to write effective and engaging rhyme that will delight children and you as well.