This is that page that's all about me – snore. But I know some people like to know so here goes…
I always wanted to be a writer and I always wrote but I started out writing a lot of magazine articles, computer books, and other stuff like that for adults to help keep our family in toilet paper and chocolate chip cookies.
Then, in about 1998, things began looking up and I was able to devote my free time to writing what I really wanted to write–underwear labels. Just kidding. I really wanted to write books for kids. So I started. But right about then, we had our third kid–Rayanne. So I often had to stop in mid-sentence to change a diaper or make sure someone wasn't creating their latest work of art on the wall–out of oatmeal.

Well, let's see, it started when I was a baby. I wrote about burps and poop and getting my first tooth.
Okay. Maybe I didn't really write anything when I was a baby. But I would have if I could have. When I was in kindergarten, my parents sent me to a special art class where I made a clay turtle and other things (that's me in the class, painting). I liked art but found out I liked writing better. I wrote and illustrated my first book when I was around 12 years old, The Laziness of Peter Rabbit.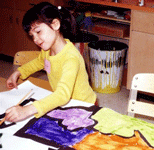 Anytime we did a special project at school, I chose to write, including a newspaper that discussed Huckleberry Finn and a play about the Pullman railway car. When we were learning about Vienna, Austria in grade school, I wrote the words to a song for part of a report (but my partner sang it because I can't carry a tune worth pinto beans).I also wrote a really bad novel when I was 15. It was exciting to type 144 pages, especially the last page where I wrote THE END.
If you want to find out what I'm up to now, check out the Blab-o-Denise—my online journal.
When and where were you born?
December 10 (Sagittarius), 1962 (I'm ancient–you do the math) I was born in Seattle, WA but didn't live there very long.
Where did you go to school?
Kindergarten: Peabody Elementary, Littleton, CO Elementary/Middle School: All Souls School, Englewood, CO High School: Arapahoe High School, Littleton, CO (with one year at Bishop Moore High School, Orlando, FL) College: B.A., UCLA (1st two years at Colorado State University, Fort Collins, CO) Post-grad: Ed.M. (Masters in Education), Harvard University Do you have any kids?
I'm married and have three kids–Zachary (freshman in college), Jesse (chica, 12th grade), and Rayanne (9th grade). We live in Denver, Colorado and their grandmother (my husband's mom) lives with us, too.
Do you have any pets?
We had to put our adorable chocolate lab, Siena, to sleep in January 2007.
She lived for the tennis ball and would be your best friend if you threw it for her. Rayanne used to have a betta fish and a hamster but both died so right now we have no pets.
What's your favorite holiday?
Halloween
What are some of your fave foods?
Avocados, french fries, Butterfingers, turkey burgers, chocolate, this awesome bean and sausage Italian soup at Undici's Restaurant in Englewood, CO. I don't like cheese, though. On that note, stay tuned for animation videos starring Kaysa, the Cheese Hater. The first video will be about my famous Cheese Rant. You may want to subscribe to my blog or texts to be one of the first to hear about it!
What is some of your fave candy?
Green & Black's Organic Dark Chocolate Mint, Butterfingers, peanut butter M&M's, cherry Tootsie Pops (to name a few!).
Do you have any siblings?
I have three sisters and one brother and each of us was born in a different state! I'm second oldest: My older bro, John, was born in Salt Lake City, UT. My sis, Michelle was born in New Orleans, LA (she's the blue clown in the pic at left), my other sis Cheryl (pronounced CH, as in "chair") was born in Littleton and my baby sis, Rebecca, was born in Orlando, FL My sibling line-up from oldest to youngest: John, Denise, Michelle, Cheryl, Rebecca.
What is your fave color?
Black. But I also like deep colors like purple, fuscia, and teal–NO pastels!
What kind of music do you like?
I like a lot of different kinds of music. Rock is my fav but I also listen to Celtic music, Native American flute, and other mellow stuff. Some of the bands on my iPod right now: Tom Petty, Hinder, Death Cab for Cutie, Cranberries, Bad Company, Led Zeppelin, and the Rolling Stones.
What's your shoe size?
Women's 7 1/2-8, Chuck Taylor's: 6
Where do you get your ideas for your books?
Everywhere! Someone may say something, or I'll read about something, or something happened to my son or daughter or niece or nephew. My ears are always open and I've got a long list of book ideas I can't wait to work on!
Did you always want to be a writer?
When I was really young, I wanted to be a vet, then a firefighter, then a dancer. In junior high and high school I wanted to be either an actor or a writer. As I entered college, writing started to grab my interest more.
What influenced you in your writing?
Teachers were a big influence. Three in particular – Marietta Brown (5th or 6th grade English – I'm still friends with her!), Sally McCabe who taught me English in 7th and 8th grade (she passed away several years ago – very sad), and Nancy Fehrmann Roach (now Fehrmann again), who was my literature teacher in 7th and 8th grade, Miss Ferrill in 9th, Mr. Rahn Anderson in 10th.the list goes on. All of them gave me encouragement and made me feel like a writer, as well as my parents, who also supported me early on.
Books were also a big influence. I read a lot as a kid and beyond and wanted to be able to create stories that readers could relate to, just as I related to the books I read. I wanted to entertain, but also maybe give readers insights, too.
If you weren't a writer, what would you be?
I would probably work behind the scenes in movies or in the theater or teach writing or filmmaking.
What else are you interested in?
Meditation, yoga, Zumba, jogging/running and I LOVE nature, especially the mountains and the water there–put me next to a stream, river, waterfall and I'm in heaven. Love the ocean too, but I definitely have mountain blood running through my veins.
Check out my gorgeous Tibetan singing bowl, giving to me by the lovely and talented Ann Martin of Mile High Healing Vibe!
Finally, I LOVE rock music! Click here to see some of the concerts I've been to over the years along with some pictures and interesting trivia.
Scrapbook
Here's some pix and images, mostly related to writing, but some that are just fun – like me in various Halloween costumes. Enjoy!
I'm represented by Lara Perkins at the Andrea Brown Literary Agency.
I'm on the faculty at Lighthouse Writer's Workshop and Regis MFA.